- 11 May 2019 23:59
#204267
Hello,
I started a pixelmon server in aternos free server, and i can't change any inside config.
I want to know if there is some way to config server from inside, and how it's done, and how much values i can put to make the game "medium to high" spawn rate.
The recent att 7.0.5 make the game spawn a lot of legendarys and bosses by just steping other biomes and i don't want that. It's spawning 2 Keldeo at a time and same legendary everytime.
example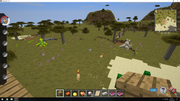 config just appear "no effect" in server